Elected president of Middle East Economic Association.
---
Awarded the Young Economists' Essay Award (YEEA) at the conference of the European Association for Research in Industrial Economics (EARIE).  He also received the Young Economist Prize at the 2012 edition of the Industrial Organization Conference in Spain, Jornadas de Economía Industrial for an exceptionally original and high-quality paper written by a young researcher.  He won these two prizes for his paper, "Complements and Substitutes in Sequential Auctions:  The Case of Water Auctions", with Jose Espin.
---
International Real Estate Society Achievement Award given in recognition of outstanding achievement in real estate research at the international level. The International Real Estate Society (IRES) is a federation of regional real estate societies that encourages global cooperation on research and education.
---
2012 Association for Public Policy Analysis and Management (APPAM) Dissertation Award for the Best Dissertation in Public Policy and Management.
---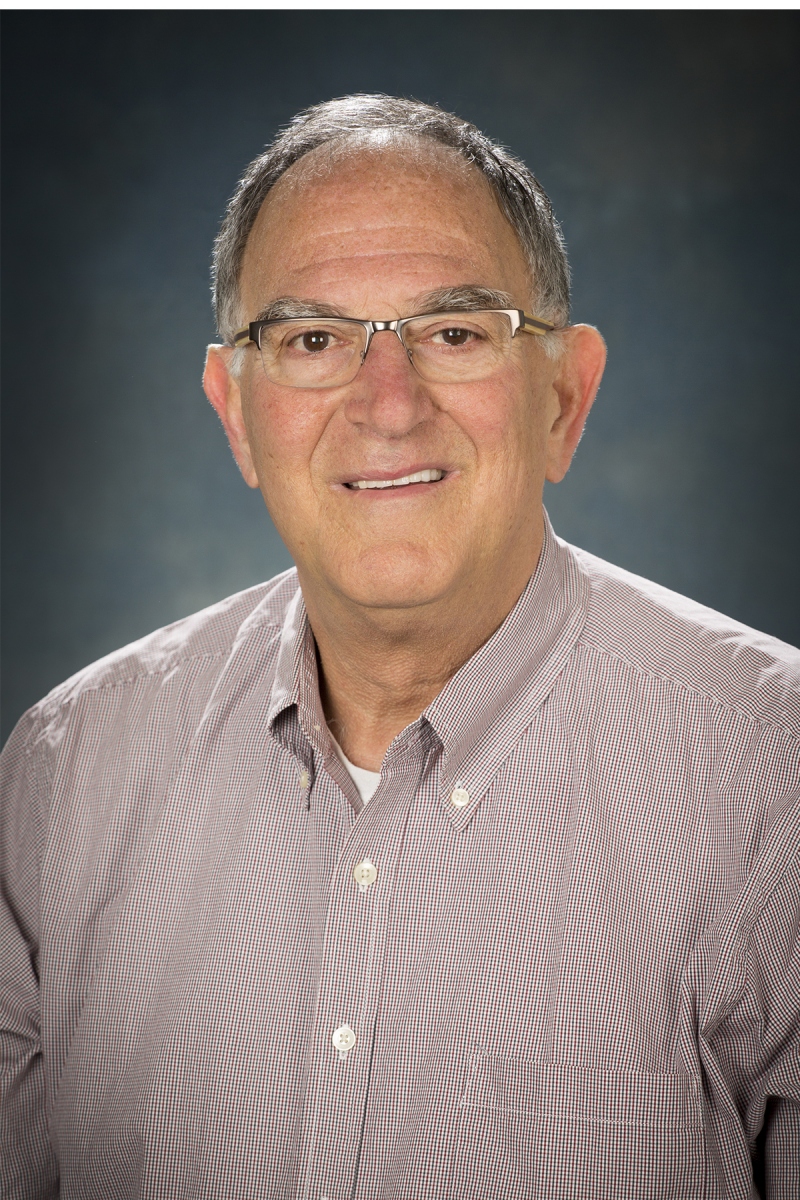 2013 Distinguished Scholar Award -- The Distinguished Scholar Award, a university-wide award established in 1978, recognizes exceptional scholarly accomplishments by senior professors who have compiled a substantial body of research. The award, supported by the Office of Research, is normally given to no more than six faculty each year. Recipients are nominated by their departments and chosen by a committee of senior faculty, including several past recipients of the award.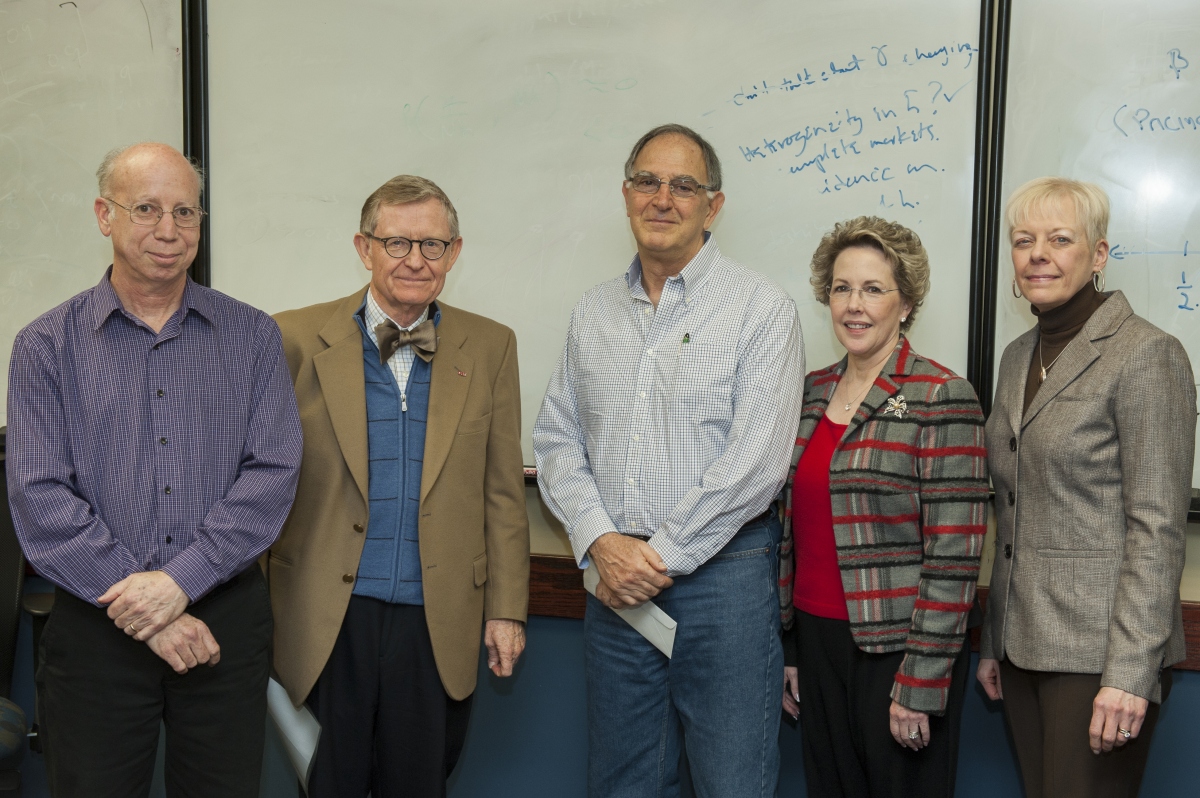 Department Chair David Blau; President Gordon Gee; Professor Dan Levin; SBS Dean Gifford Weary; Sr. Assoc. VP for Research Jan Weisenberger
Gordon Gee and Dan Levin
Dan Levin has made seminal contributions to economic theory and experimental economics, with a particular focus on auction markets. He excels in carefully constructing experiments to test well-formulated theoretical questions and using the insights gained to advance economic theory. His contributions have led to important, new public (and private) policy implications, establishing Levin as a world leader in experimental auctions literature.  "Dan is one of the most significant players in experimental economics, one of the very few that have a significant impact on the profession as a whole," one colleague wrote.
He has published more than 50 journal articles, which appear in some of the economics profession's most preeminent scholarly journals. His works cover a variety of topics including auction markets, behavioral decision-making, industrial organization and mergers, international trade, political economy and public policy. His book, Common Value Auctions and the Winner's Curse, is universally recognized as the authoritative source on the subject.
Levin has received nearly continuous funding from the National Science Foundation since 1984. He was selected as one of the first Economic Theory Fellows by the Society for the Advancement of Economic Theory.
Levin has served on the National Science Foundation Economics Advisory Panel, and has been as an associate editor for the leading journal in game theory, Games and Economic Behavior, since 2004.
Levin, who came to Ohio State in 1995, received his PhD from the Massachusetts Institute of Technology.
---
Excellence in Refereeing Award, American Economic Review, 2012.
---
Grants
Russell Sage Foundation Behavioral Small Grant for $7200
---
A research team led by Randall Olsen, professor of Economics and director of the Center for Human Resource Research (CHRR), has received a grant for $499,615 from the National Science Foundation (NSF) to lead an interdisciplinary team of researchers on a data project to expand access to the Ohio Longitudinal Data Archive.  Lung-fei Lee, professor of economics, is one of the co-principal investigators on the project.  With the funding, the research team will do high-quality research using the Ohio Longitudinal Data Archive and will train researchers to better use the data.  The Ohio Longitudinal Data Archive is affiliated with the Ohio Education Research Center, a collaboration of six universities and four research organizations that connect research, education, and policy for Ohio's schools.  Using data sets from the Ohio Longitudinal Data Archive, researchers from Ohio and elsewhere can study critical issues that inform policy in such areas as education and economic development, health, political and voting systems, and social services delivery.  The federal government has made substantial investments in the infrastructure of data into longitudinal data systems, but the integration of these data across agencies and the development of human capital to use these data have lagged. The project will expand the infrastructure in Ohio to conduct data-intensive research by developing an open portal that allows researchers to examine data archive documentation and codebooks to assess whether the data meet their research needs.
---
Professor Bruce Weinberg recently received grants from the National Institute on Aging (NIA) and the National Science Foundation (NSF), totaling $5.8 million, to support systematic analysis of the scientific research enterprise. The NIA project originates from the observation that the US population is aging, which will increase need for biomedical innovation. However, the biomedical research workforce itself is aging, which is a cause for concern given that researchers are believed to be most innovative early in their careers. The project will estimate the impact of the aging of the biomedical research workforce on production of research, its impact on health and the economy, and policy responses. The NSF project focuses on the early stage of the career, studying how the size and structure of the laboratories in which graduate students and postdoctoral fellows train affect their career outcomes. Both projects are highly multidisciplinary, with teams of social scientists, physicians, education researchers, and computer/information scientists. The projects will develop a unique "big data" infrastructure to support the research (see related item on Faculty Appointments page).  Bruce Weinberg, the Principal Investigator for both projects, is one of the leaders of the nascent and rapidly growing field of the science of innovation.
---
National Science Foundation Research Grant (AST-1247840), "Achieving Efficient Spectrum Usage in Active and Passive Sensing through A Market-Based Approach," with Joel Johnson and Christopher Baker (Department of Electrical Engineering and Computer Science), Award amount: $500,000, Duration: Sep. 2012 – Aug. 2015. 
---