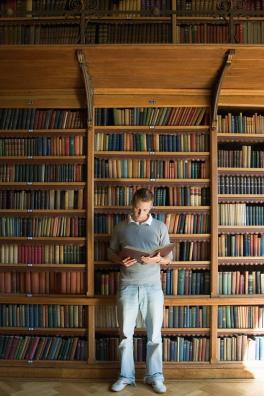 The annual Denman Undergraduate Research Forum is one of the largest undergraduate research events in the country. More than 700 undergraduates made presentations at this year's forum, held March 20, 2014.
John Conlon, an undergraduate majoring in economics and philosophy, won first place in the Social and Behavioral Sciences category for his research project, Labor Market Frictions and Human Capital Investment. His advisor is Professor Karen Bernhardt-Walther.
The following economics students also participated in the forum:
Saayee Arumugan
Bootleggers and Baptists in the Shale Gas Revolution
Advisor: Senior Lecturer Nicholas Snow, Economics
Fourth Place Award
Nima Dahir
Optimism and Willingness to Invest
Advisor: Professor Katherine Coffman, Economics
Aaron Englander
Drivers of Demand for Carbon Offsets: A Comprehensive Assessment of Imperfect 
Substitutes
Advisor: Professor Noah Dormady, Public Affairs
Paul Jackson
An Abstract of "Keeping it Close to Home:  Changes in Regional Trade Patterns"
Advisor:  Paulina Restrepo-Echavarria, Economics
Co-advisor: Professor Trevon Logan, Economics
Annie Kayser, Economics 
Ray Gans, Public Affairs
Less Isn't More:  Differences Between Types of Scarcity
Advisor: Professor Lucas Coffman, Economics
Fourth Place Award
Lu Zheng
The Determinants of Student College Debt
Advisor: Professor Lucia Dunn, Economics
Fourth Place Award
The Denman Undergraduate Research Forum is coordinated by Ohio State's Undergraduate Research Office and supported by the Office of Research, the Office of Undergraduate Education, Richard J. and Martha D. Denman and other corporate and private donors. 
---