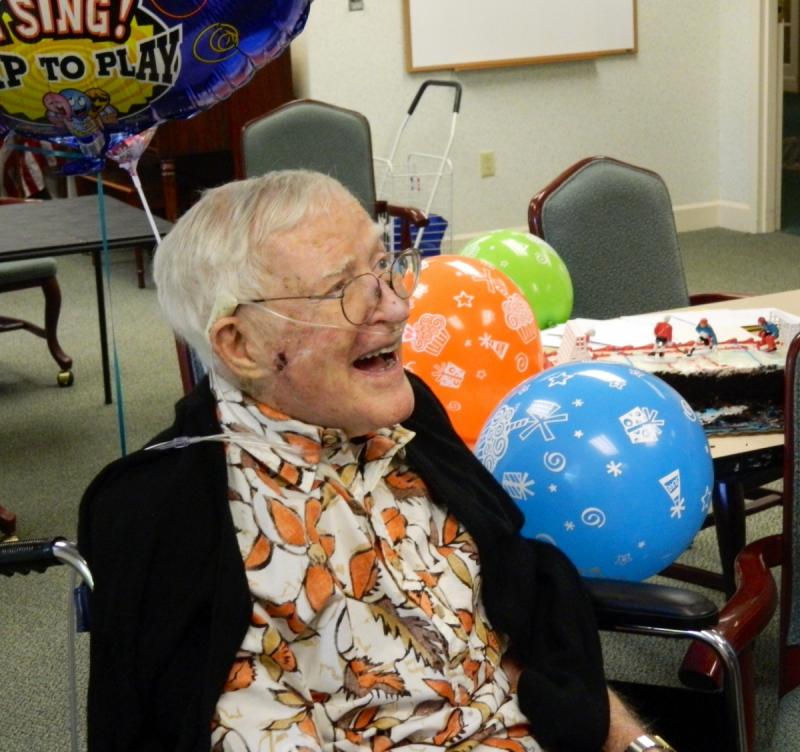 Richard (Dick) Updike Sherman, Jr., former Mershon Professor of Economics, celebrated his 100th birthday on September 28.
Sherman was born in Utica, New York on Sept 28, 1914, the son of Richard Updike Sherman and Eleanor Millar Sherman, and the grandson of James Schoolcraft Sherman (vice president under W.H. Taft, 1909-1912).
Following graduation from The Choate School, Sherman attended Williams College, receiving his BA in 1936. He later attended Harvard University's Business School, Kennedy School of Government, and Graduate School of Arts and Sciences, earning his Masters, MBA and PhD in economics. After graduating from Williams, Sherman worked as a member of the Federal Reserve Bank of New York research department. During this period he also played center for the now defunct Jamaica (NY) Hawks professional ice hockey team. Following a whirlwind romance on the eve of WWII, he married Virginia (Jinny) Stanley on Oct. 4, 1941, a mere three months after meeting her.
Throughout the 1940s, Sherman worked with the federal government and armed services in crucial wartime and post-war security and resource roles, including service on the National Security Resources Board in the Executive Office of the President. In 1949, he was selected as one of the first civilian students at the Industrial College of the Armed Forces (now the Eisenhower School for National Security and Resource Strategy). In 1950 he joined Operations Research Office (ORO), an Army think tank. He spent six months in Tokyo in the civilian role of Brigadier General over the ORO Southeast Asia Office, where, focusing on the growing national concern over the threat of communism, he assisted in U.S. negotiations with North Korea.
In 1961, Sherman came to Ohio State as the Mershon Professor of Economics with a specialty in the economics of national defense. He was well-suited to the life of a professor, as he deeply enjoyed introducing large groups of students to the subject of economics and leading intense discussions in small seminars. At one favorite seminar session he surprised his students with a presentation by his former intern, Henry Kissinger, then Secretary of State, who referred to Sherman as his "former boss."
After his retirement from Ohio State in 1985, Sherman served as an economic expert witness in wrongful death/permanent disability litigation.
Sherman was an avid hockey player, coach and fan. He played with friends and family on frozen ponds, and with university faculty/alumni teams in Ohio. He and Jinny shared a passion for travel and sports--playing tennis, skiing, and taking frequent trips around the country and across the globe. For relaxation, he loved vegetable gardening.
He permanently hung up his skis, skates and tennis racquet in 2004, at the age of 90, when he and Jinny moved to an apartment at Friendship Village in Dublin, Ohio, where he still lives.
Sherman continued to stay active and for years was known as "The Walker" because he walked around the entire complex and neighborhood every day. His dry wit and subtle sense of humor are well-known, generally delivered deadpan to the delight of those around him. With rich memories, he still loves to tell stories with a twinkle in his eye.
Married for over 70 years, he finally said good-bye to his beloved wife Jinny when she died in January 2012, but his love of family and friends continues to sustain him and enrich others.
---