April 18, 2016
No Buckeye Goes Hungry: Students Open Food Pantry
Image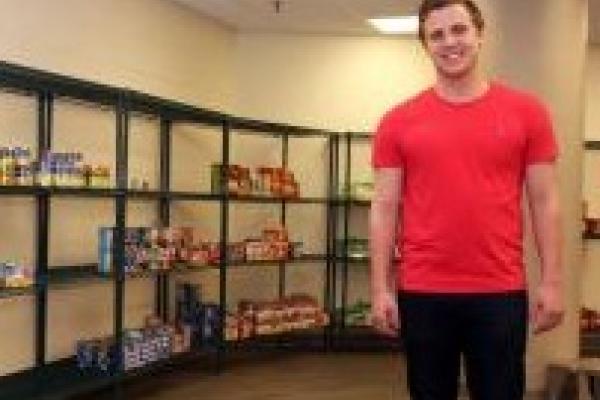 Description
When he was 11 years old, Alec Admonius' parents took him along as they volunteered with Meals on Wheels in their neighborhood just outside of Detroit. It must have made quite an impression, because Alec, now a third-year student majoring in economics and communication, and Thomas Rosenberger, a friend and former roommate, just opened the doors to Buckeye Food Alliance, a nonprofit food pantry they founded for Ohio State students in need.

"One night during our freshman year, Thomas came out of his room and asked if anyone was interested in opening a food bank like Michigan State's — a university-based food bank run by students for students," said Admonius. "There were several of us in the room, and we all looked at each other and said, 'we're in!'"

But was a food pantry really needed at Ohio State?

Admonius, Rosenberger and the project team dug in and did some serious research, discovering that 15 percent of Ohio State students reported having "low food security," meaning that they lacked reliable access to affordable, nutritious food from week to week.

"To some, 15 percent doesn't sound like a huge number, but to us, even a few students going hungry were too many."

Admonius then spent his sophomore year talking to everyone he could at the university to locate space that would be convenient, safe and comfortable for students while offering the room necessary to accommodate large amounts of inventory. The process paid off with the university's in-kind donation of space in Lincoln Tower. After months of renovation and hitting the ground collecting food donations, Buckeye Food Alliance opened its doors on March 30.

"We've had so many students and community members bring in donations, and slowly, students who need help are finding their way to us," said Admonius.

All currently enrolled Ohio State students who do not have the "Unlimited" or "Scarlet 14" meal plans and all graduate and doctoral students in need are eligible for the pantry's services. Hours are Tuesdays and Wednesdays, 6-9 p.m. and Sundays, 5-9 p.m. No appointment is necessary; students in need can simply drop by and pick up food.

Admonius' father is a Buckeye, and Admonius comes to Ohio State as a National Buckeye Scholar, having achieved a 4.06 GPA in high school and a 32 ACT score. A two-time state champion debater, he is not easily deterred. No doubt the food pantry may hit some bumps along the way, but he and his team are determined to keep the doors open for as long as there is a need.

"Our next step is to join the partnership program with Mid-Ohio Food Bank, which will allow us to buy food at a deep, discounted rate," explained Admonius. "We need to prove ourselves for at least three months before that can happen."

Admonius has come a long way since his first exposure to Meals on Wheels, but he has continued to deliver for the organization every holiday, every year, since he was 11.  

How You Can Help                

If would like to support Buckeye Food Alliance, they are in need of canned vegetables, tuna, beans, fruit and peanut butter. Donations may be dropped off at RPAC (337 West 17th), or volunteers from the pantry will be happy to pick up donations. Contact Buckeye Food Alliance by phone at (513) 300-4843 or by email. They also accept monetary donations via their website.
---