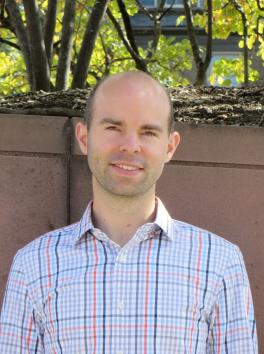 Faculty Profile: Kurt Lavetti, Assistant Professor of Economics
Kurt Lavetti is a self-described health economist.
"My research spans topics in labor and health economics, generally motivated by pressing concerns and questions about public policies," explained Lavetti.
Lavetti arrived at Ohio State in 2013 after completing a two-year fellowship with the Robert Wood Johnson Foundation (RWJF) Scholars in Health Policy Research Program at UC Berkeley (2011-13). The program supports outstanding new PhDs in economics, political science and sociology to advance their involvement in health policy research.
During his tenure as a health economist, Lavetti's research has investigated topics including how health insurance companies strategically design Medicare prescription drug formularies to help select the most profitable patients into Medicare Advantage plans, increasing the total cost of Medicare; how state laws allow physicians to write non-competition contracts, and what these laws do to the geographic distribution of physicians and to prices; and how much taxpayers are willing to pay to fund expansions of public health insurance coverage.
In the short time that Lavetti has been at work as a health economist, he has amassed an impressive list of working papers on subjects ranging from "The Effects of Imperfect Information about Physician Quality on Geographic Location, Prices and Welfare" (a research question Lavetti identified in his application for graduate school); "Buying Loyalty: Theory and Evidence from Physicians" (a working paper that grew out of a chapter in Lavetti's dissertation) to the "Taxpayer's Willingness to Pay for Health Insurance Reform."
Lavetti's job-market paper on the impact of non-compete agreements (NCAs) on outcomes for doctors and patients (quality, income and pricing) is the first of its kind.
Nearly half of primary care physicians have NCAs, but prior to Lavetti's survey, their use in healthcare had never been documented systematically, and there were no data from any industry that linked NCA use in contracts to individual labor market outcomes.
"There are several reasons why this is an important topic," said Lavetti. "We find that NCAs have the potential to dramatically increase the efficiency of physician practices by giving firms property rights that encourage them to invest in relationships with patients.  It's essentially Coase's theorem in practice.  Since spending on physician services alone in the U.S. is more than $550 billion dollars a year, these efficiency gains matter a lot. On the other hand though there are also potential effects on consumers and their access to doctors, which I'm in the process of investigating now. For example, in states with strict NCA laws I find that there are significantly fewer primary care physicians and fewer physician practices than one would expect to see based on demand. If that's because physicians are deterred from jobs with NCAs, then these policies could have unintended consequences in skewing access to physicians, so it's important to understand both sides of the story to really know the welfare implications of these policies.
The main conclusion of the Lavetti's paper is that, even though it seems at face value like NCAs create costly restrictions on workers, they can actually counteract pre-existing inefficiencies by reducing investment holdups
"NCAs allow firms to invest in their doctors risk-free, without worrying that the doctors will walk away and take years of training and a patient-base with them," explained Lavetti. "They (NCAs) create a level playing field among doctors by preventing poaching of patients." 
Preliminary evidence also suggests that doctors who practice within an organization with NCAs earn more and consumers may be doing better as well. "Earnings and productivity of physicians with NCAs grow at a much faster rate over time as doctors begin new jobs," said Lavetti.
Lavetti expects that NCAs will become an even larger issue during the implementation of the Affordable Care Act, where demand shifts by the uninsured in urban areas are likely to be highly clustered, if NCAs prevent physicians from moving within markets in response.
Lavetti's roots are in Bryantown, Maryland, a small unincorporated community (as of the 2010 census, the population of Bryantown was 655).
"Most of my teachers in high school would've predicted I would pursue a degree in economics," said Lavetti. He managed his own stock portfolio in eighth grade . . . and made money.
Lavetti attended Boston College as an undergraduate. Between his junior and senior year, he attended the London School of Economics.
"It was the first time I had the opportunity to experience applied economics and I was fascinated by this framework to solve real-world issues."
Lavetti earned his BA in economics and finance at Boston College in 2004. His senior thesis focused on the economics of climate change.
He went on to earn an MA and a PhD in economics from Cornell University.
During his fellowship with the Robert Wood Johnson Foundation, Lavetti visited Ohio State.
"The level of collegiality and cohesiveness among the economics faculty was amazing," said Lavetti.
---