20th Denman Undergraduate Research Forum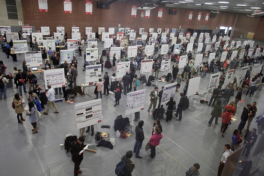 The Denman Undergraduate Research Forum, now in its 20th year, is coordinated by the Undergraduate Research Office and supported by the Office of Research, the Office of Undergraduate Education, Mr. and Mrs. Richard Denman, and other corporate and private donors. The forum is an opportunity to showcase outstanding student research, scholarship, and creative activity and encourage all undergraduates to participate in these activities to enrich their undergraduate education.  At this year's forum several students from the Department of Economics won prizes for their research projects.
First Place - Alison Butler
Quick to be selfish or quick to cooperate? A meta-analysis of response time asymmetries in social decision-making
Advisor:  Ian Krajbich
Second Place – Max Mauerman
Spatial mismatch: Understanding differences in income mobility between cities
Advisors:  Sara Watson and Vladimir Kogan
Third Place - Akina Ikudo
Experimental approach to effective implementation of non-compete agreements
Advisors:  Kurt Lavetti and Katherine Coffman
Fourth Place - Aaron Englander
Multidimensional ambiguity and individual willingness to take preventative action
Advisors:  Paul Healy and Katherine Coffman

Fourth Place - Luke Fesko
A revolution in savings: the impact of M-PESA on savings patterns in Kenya
Advisors:  Bruce Weinberg and Lucas Coffman
Other Economics students participating in the 2015 Denman:
Qize Chen and Annie Kayser
Advisor:  Bruce Weinberg
Naomi Anderson (Neuroscience) and Xiao Luo (Economics and Math),
Advisor:  Ian Krajbich
Students presenting research posters at the Denman Undergraduate Research Forum.
Highlight of a Denman Undergraduate Research Forum Project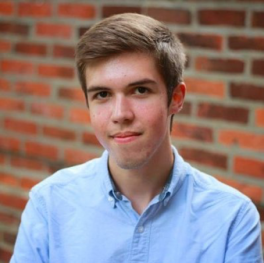 The central question of Mauerman's research project was why some American cities appear to be havens of opportunity while others appear to be stratified and socially immobile — a problem which is well-understood by many Americans, but economic studies have only recently shed empirical light on this problem.
Max Mauerman, a senior majoring in economics and political science, presented his research project, "Spatial mismatch: Understanding differences in income mobility between cities," at the 2015 Denman Undergraduate Research Forum. 
My research examines the differences in social mobility between cities," said Mauerman. "What characteristics make some cities more structurally unequal than others and how do policy decisions influence that inequality. I argue that these differences are the result of policy decisions that have shaped not only the social structure of cities, but their very geography."
In looking at the accessibility of public transport, Mauerman first conducted a national statistical study to establish a relationship between transit accessibility and upward income mobility. He found that the key differences between cities is not how efficient their public transit systems are, but whether low-income communities have access to transit at all. The percentage of low-to-average income tracts serviced by public transit has a large, statistically significant effect on upward mobility.
Next, to answer the question of why some cities develop more accessible public transit systems than others, Mauerman conducted a case study of Columbus and concluded that Columbus prioritizes operational efficiency of its transit system over social effectiveness.
"The results of both studies indicated that access to public transit is beneficial to the least advantaged, but its efficacy depends on both the form of the city (influenced by sprawl and segregation) and the political will for implementation," said Mauerman. "Understanding these spatial patterns of inequality—and how accessible public transportation and fair housing can alleviate them—is hugely important for urban planners and urban development."
Mauerman's advisor was Sara Watson, assistant professor, political science.
Mauerman will participate in the John Lewis Fellowship for civil rights advocacy after graduation, and then pursue an advanced degree in economics or public policy.
http://www.undergraduateresearch.osu.edu/documents/2015_Denman_Highlights.pdf
---