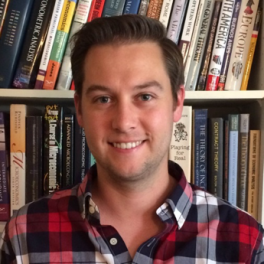 Joe Staudt, PhD candidate in economics, has a long relationship with Ohio State. He developed a passion for economics after reading Thomas Sowell's Basic Economics. Learning about incentives, constraints, the price system and comparative advantage for the first time gave Joe a completely different outlook on the world around him. He proceeded to dig up his dad's old college economics textbook, which became his first introduction to formal economic theory. Though he doesn't remember the author of the text, Joe does recall that it was old enough to present consumer theory using utils.
After these initial exposures to economics, Joe knew that he wanted to study economics in college. Joe grew up in a small town in western Ohio, and developed a passion for Ohio State football long before he developed a passion for economics. So, Ohio State was a natural place for him to pursue his degree in economics. Knowing that he would eventually continue his studies at the graduate level, Joe also minored in math and statistics.
During his time as an undergraduate, Joe was hired by Economics Professor Bruce Weinberg to collect data for a project that Weinberg was working on. In their first meeting, Weinberg asked Joe what "languages" he knew. Joe was initially puzzled, thinking Weinberg meant spoken languages. However, it quickly became clear that Weinberg meant coding languages, about which Joe knew nothing. Nevertheless, Weinberg decided to keep Joe on the project. Joe picked up a book on coding, and the two have worked together ever since.
As Joe's time as an undergraduate came to end, Weinberg and Professor Hajime Miyazaki were instrumental in guiding Joe through the graduate school application process. In the end, however, he decided to continue his studies at Ohio State. He passed his field exams in macroeconomics and labor economics and continued working as Weinberg's research assistant and as a teaching assistant.
Joe's research covers a variety of topics in labor economics, urban economics, and the economics of science and innovation. More specifically, he has studied how per-article cash bonuses affect researcher productivity, how open access mandates impact the market for academic journals, how scientific activity in a metro area impacts the wages and real estate prices in that metro, and how changes in worker quality impact the productivity of coworkers.
Joe is also a member of a large interdisciplinary research group (headed by Weinberg) that is attempting to construct novel measures of high impact and transformative science (HITS). Joe's role in the group is to use text in the titles and abstracts of journal articles to examine which articles, researchers or fields are producing innovative or important scientific concepts. This has required him to integrate the tools of natural language processing with the standard tools of applied microeconometrics to shed new insights into how science progresses.
Going forward, Joe's goal is to place well in the upcoming job market. He would like to land at a research institution that allows him to combine his passions for economic research and teaching.
Joe currently splits his time between Columbus and Baltimore, where his wife, Ashley, works in marketing for Under Armour.
---