The Undergraduate Economics and the economics department hosted its annual Autumn Undergraduate Reception on September 3 in the Cartoon Room at the Ohio Union.  The reception was an opportunity for students to meet fellow majors and other undergraduates who are enthusiastic about economics.  In addition, our Departmental Citation for Excellence in Teaching (DCET) and Graduate Associate Teaching Award in Economics (GATA) were presented at the reception.  Undergraduates who received awards are listed below (see Graduate Student Awards page for DCET and GATA award recipients). 
Scott Gledhill Prize in Applied Economics
Max T. Mauerman ($5,000)
Keith and Linda Monda Scholarship (Renewals)
David C. Krosin ($4,000)
Bejamin W. Schumann ($4,000)
L. Edwin Smart Sr. Prize for Excellence in Undergraduate Economics ($1,000)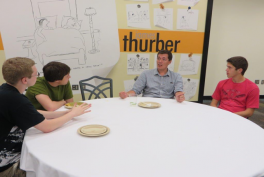 Ezra Baker
Aaron Carter
Nima Dahir
Nicholas Elrad
Cormac Kelly
Hyeji Kim
Ivona Markovska
Mary Matusz
Michael Morris
Zachary Perry
Taylor Smith
Senior Lecturer Ethan Doetsch with undergraduate students at annual reception.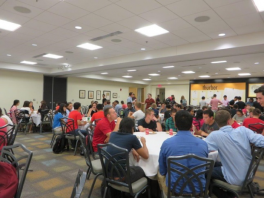 Attendees at annual reception for Economics undergraduates.
---