Department Advisory Board
As part of an effort to re-engage Ohio State alumni and other friends with the Department of Economics, a Department Advisory Board was created in 2015. Board members serve by invitation of the department chair to provide advice, financial support and outreach opportunities that advance the long-term goals of the department.

Board members are:

Rosa Ailabouni, Business Strategy Consultant, Navigator Management Partners
Mike Cogan, President Ohio, Northern Trust Co.
Joseph Duncan, retired economist and statistician
Curt Garner, Chief Information Officer, Starbucks
Scott Gledhill, Business owner-operator (board chair)
Stephen Havlovic, Dean, Laurentian University
Richard Hobbie, retired public policy and government affairs expert
David Jones, retired management consultant and financial planner
James Lehr Kennedy, Owner-Operator, Next Future LLC
Chris Marshall, Executive Vice President and Treasurer, BBVA Compass
Justin Miller, Senior Trial Counsel, U.S. Department of Justice
Jonathan Sokobin, Chief Economist, Financial Industry Regulatory Authority
Rhett Thurman, Chief Operating Officer, Cain Brothers & Company,
Richard (Dick) Willke, Vice President, Outcomes & Evidence, Pfizer

Already the board has provided significant support and direction to the department to strengthen career counseling and placement support for students. In fall 2016, the department, with support from the board, hired its first career counselor. Tracy Hanson is a dedicated resource for career and internship information and employer contacts for undergraduates.  Soon, the board will be spearheading a LinkedIn network for economics alumni.

The board meets again in October 2017.

Advisory Board Profile: Mike Cogan (BA, economics, 1984)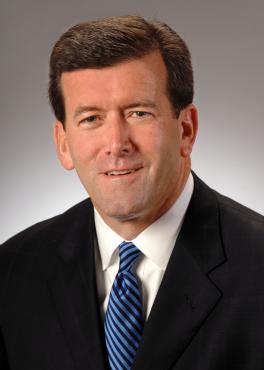 Mike Cogan is president and CEO, The Northern Trust Bank, in Ohio. A native of Cleveland, Cogan has had a long and distinguished career in the field of economics, with more than 30 years of experience in banking and investment in northeastern Ohio.

Just as important, Cogan has invested many years and much time in service to his community. Currently, Cogan serves as a board member for Business Volunteers Unlimited and the Southwest Community Health Foundation. For more than 15 years, Cogan worked tirelessly to help the young men and women served by the Boys and Girls Clubs of Cleveland, find their path. He now brings that same passion and a wealth of business expertise to the Department of Economics Alumni Advisory Board.

Why did you choose Ohio State for your undergraduate education?

My father was an Ohio State graduate so I would come down to Columbus with him for games. Walking across the Oval – I knew this is where I wanted to go to school. When I first enrolled at Ohio State, I thought that I wanted to be a business major. However, once I took my first economics class, I knew that this was my field.

Did you have a job in mind before you graduated?

Yes and No. The economy was tough in the early 1980s so I took jobs pouring concrete and waiting on tables. Pouring concreate was easier! Then, I landed an internship at National City Bank in Cleveland – an internship that I had to find on my own because there were no internship programs at the university at the time. When I finished the internship, I became a district loan manager. After several years I moved to the investment side of banking and began to work with high net worth individuals. I spent 14 years at Fifth Third Bank (senior vice president) before I joined Northern Trust 10 years ago.

Why did you agree to serve on the Department of Economics Alumni Advisory Board?

I wanted to reconnect with and give back to the university that gave me the foundation for my career. For some time I had thought about teaching economics at Ohio State, but my schedule wouldn't permit. But when David (David Blau, chair, economics) contacted me about joining the advisory board, it seemed like a perfect fit and an opportunity to help students navigate some of the same hurdles I did.

What do you hope to accomplish on the advisory board?

I strongly believe that students have to be connected to the business community before they graduate in order to compete for jobs and careers. Building networks is the most difficult and challenging thing for a young student to do. I remember vividly, when I was young, going to events and not knowing a soul, but there are no shortcuts and you have to be willing to put yourself out there. That's on the student. But making the connections and opening doors – that's something that we as alumni can and should do.   

The advisory board has identified internships and networking as our priorities.

Why is networking and building an internship program so important?

If you look at how and where businesses do their hiring, there's a strong link between internships and hiring programs. We need to create and sustain a network that supports our economics students' efforts to secure meaningful work and careers. At the same time, we need to encourage and support our students who want to pursue PhDs and a career in academia by forging relationships across universities and colleges.
---