Alec Admonious
NO BUCKEYE GOES HUNGRY:  ECONOMICS STUDENT OPENS FOOD PANTRY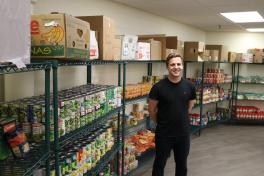 When he was 11 years old, Alec Admonius' parents took him along as they volunteered with Meals on Wheels in their neighborhood just outside of Detroit. It must have made quite an impression because Alec, a fourth-year student, majoring in economics and communication and Thomas Rosenberger, a friend and former roommate, founded Buckeye Food Alliance, a non-profit food pantry for Ohio State students in need.

"One night during our freshman year, Thomas came out of his room and asked if anyone was interested in opening a food bank like Michigan State's - a university-based food bank run by students for students," said Admonius. "There were several of us in the room and we all looked at each other and said 'We're in!'"

But was a food pantry really needed at Ohio State?

In a wellness assessment conducted by Ohio State's Center for the Study of Student Life, 15 percent of Ohio State students reported "very low" food security, meaning that they lacked reliable access to affordable, nutritious food from week to week.

"To some, 15 percent doesn't sound like a huge number, but to us, even a few students going hungry were too many."  He says that food-insecure students are more likely to be first-generation, minority or nontraditional students, such as those trying to work, take classes and raise a family. Even for students receiving federal student assistance, there is a several-thousand-dollar gap between financial-aid packages and total expenses.

Admonius spent his sophomore year talking to everyone he could at the university to locate space that would be convenient, safe and comfortable for students and offer the room necessary to accommodate large amounts of inventory. After months of searching and collecting food donations, Buckeye Food Alliance opened its doors on March 30, 2016 in Lincoln Tower.

"We've had so many students and community members bring in donations and slowly, students who need help are finding their way to us," said Admonius.

All currently enrolled Ohio State students who do not have the "Unlimited" or "Scarlet 14" meal plans and all graduate and doctoral students in need, are eligible for the pantry's services. Hours are Tuesdays and Wednesdays, 6-9 p.m. and Sundays, 5-9 p.m. No appointment is necessary; students in need can simply drop by and pick up food.

Admonius comes to Ohio State as a National Buckeye Scholar having achieved a 4.06 GPA in high school and a 32 ACT score. A two-time state champion debater, he is not easily deterred. No doubt the food pantry may hit some bumps along the way, but he and his team are determined to keep the doors open for as long as there is a need.

How You Can Help
    
If would like to support Buckeye Food Alliance, they are in need of cash donations to help pay the rent on their suite in Lincoln Tower. In addition, food donations can be dropped off at RPAC (337 W. 17th Ave.), or volunteers from the pantry will be happy to pick up donations. Contact Buckeye Food Alliance by phone, 513-300-4843 or by email.
 
Spencer LaHue
Undergraduate Profile: Spencer LaHue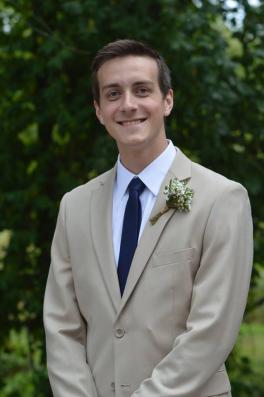 Spencer LaHue started out his undergraduate journey at Ohio State as a chemistry major. He made the switch to economics partway through his first semester after taking the course, Principles of Macroeconomics.

"The class inspired me to take more advanced economics classes," said LaHue. "I knew that a degree in economics would provide me with a wide variety of career choices."

In addition to his focus on economics, LaHue has volunteered his time as a counselor for the American Legion Buckeye Boys State Program. This youth-in-government program, open to young men who are going into their senior year of high school, teaches students about city, county and state government through a week of immersion in the political process. LaHue has been a volunteer counselor for four summers.

"Life as a counselor can be chaotic to say the least," LaHue said. "We meet after the students go to bed to discuss every detail of the schedule, and then we wake up before the students to prepare for the day. My favorite part about the Boys State Program is seeing the transformation in the "city" of students that I supervise. Many of them arrive less than excited about spending a week away from home learning about government. They begin the week as a timid, unsure group of strangers, but by the last day they have grown into self-confident, strong leaders, and they have formed friendships with other students from all over Ohio."

LaHue reflected on the changes that he experienced as a participant himself in Buckeye Boys State in 2012.

"I knew then that I wanted to be a Buckeye Boys State counselor," said LaHue. "This program has given me the opportunity to work with other amazing counselors and veterans, all of whom help me develop my leadership skills and positively impact my life. This is one of the most important things that I give my time to, and I am looking forward to Buckeye Boys State 2017."

LaHue also volunteers his time as a mentor for Ohio State's College Mentors for Kids program. College mentors work with other student organizations to create activities that are focused on higher education, community service, culture and diversity.

"I became involved with College Mentors for Kids my second year at Ohio State when my older brother Phil urged me to apply," said LaHue. "Mentoring children from the Columbus community is a great cause, and I love the idea of showing kids that higher education is possible."
 
Kirby Nielsen
Graduate Student Kirby Nielsen is an Experimentalist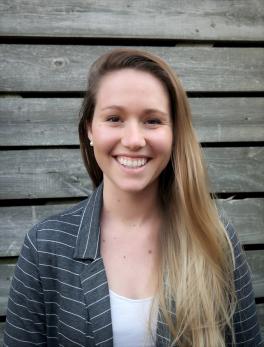 Kirby Nielsen joined the economics PhD program in 2013 after graduating with a degree in economics from Rice University in Houston, Texas. She received her MA in economics at Ohio State in 2014.

Nielsen started as a medical school-bound freshman at Rice, but a summer research internship turned her onto graduate school instead. A few books redirected her interests from medicine to economics, and she's been hooked since.
"My research focuses on microeconomic theory, decision theory and game theory using experimental methodologies," Nielsen said. "I design and conduct experiments to test various theoretical hypotheses and predictions."

For her research, Nielsen recruits Ohio State undergraduate students to the department's Experimental Economics Lab where they make decisions for real monetary consequences. Kirby and her co-authors then use this data to compare with what economic theory predicts people will choose. heir results aim to inform new theories and speak to relevant economic environments.

Nielsen also focuses on experimentally analyzing risk and time preferences.Research on risk preferences studies how individuals make decisions in the face of uncertainty, and time preferences capture how people value outcomes at different times in the future.

"In my ongoing project studying uncertainty resolution, I look at whether individuals prefer to learn the result of an uncertain outcome all at once or gradually over time," explained Nielsen. "Underlying behavioral preferences for or against gradual information can have important economic consequences. For example, an aversion to acquiring gradual information can lead to information avoidance at the expense of informed decision making."

Additionally, Nielsen researches the effect of communication on cooperation. Working with Professor John Kagel and graduate students Puja Bhattacharya and Arjun Sengupta, Nielsen looks at the different effect communication has on team and individual decision makers. Kirby, Puja, and Arjun also look at the impact of the timing of communication and whether people view a broken promise about a future action differently from a lie about a past action. Her research has been funded by Ohio State's Decision Sciences Collaborative and the Journal of Money, Credit, and Banking Grants for Graduate Student Research.

Nielsen enjoys teaching and incorporating experiments into the classroom. She has been a teaching assistant for Introductory Microeconomics courses, and she has taught Government and Business. She received a departmental citation for Excellence in Teaching for the 2015-2016 academic year.
---