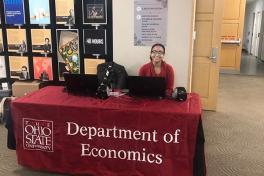 Stephanie Petrov joined the Department of Economics in fall of 2019 as the department's career services coordinator. Since her arrival on campus, Petrov has helped numerous students start their career in economics and has been a dedicated resource for alumni. Her services range from assisting with company and industry research to providing critiques of professional documents to mock interviews. Not only does she help with finding employment after graduation, she aids current students in internship searches. In Petrov's short time with the department, she has worked to cultivate and build relationships with numerous companies to provide economics students with more internship opportunities. Just this year, she has worked with the Center for Career and Professional Success to build new activities and events for students.
Petrov organizes a fall and a spring economics career fair each academic year with the Undergraduate Economics Society. The most recent career fair was attended by 22 employers. These career fairs are open to any economics major or minor and recent economics graduates. Some employers who have attended include Nationwide Financial, the Federal Reserve, Peoples Bank, Worldpay, Oracle and AEP. In addition to organizing te career fairs, Petrov hosts various career preparation events so students can meet future employers and network with successful alumni.
For more information about the career services that Stephanie Petrov provides, check out the career services page: https://economics.osu.edu/career-services. If you or your company is interested in attending an upcoming career fair or hosting an event in conjunction with the department, feel free to email Stephanie at petrov.21@osu.edu.
---