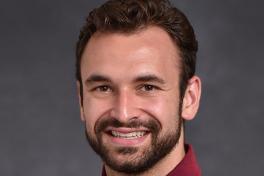 Economics Alumnus Cameron Conrad awarded NSF Graduate Research Fellowship
The National Science Foundation (NSF) recently announced the 2020 recipients for its prestigious Graduate Research Fellowship Program including Ohio State graduate Cameron Conrad.
Conrad graduated from The Ohio State University in 2016 and studied economics, mathematics and history. His early extracurricular involvements as an undergraduate inspired his interest in education, which led him to write his thesis on Title I school funding. Professor Bruce Weinberg and Associate Professor Stéphane Lavertu were his thesis advisors. Recognizing the potential impact of this thesis, the Department of Economics awarded the project the Gledhill Prize in Applied Economics, which is given to the best paper in applied economics by an undergraduate economics major.
In addition to conducting research for his thesis, Conrad worked as a research assistant for Weinberg and was an undergraduate research fellow. Although he enjoyed conducting academic research, he also wanted to have a more direct impact in the field of education. As a result, he joined Teach For America in Greater New Orleans, where he taught middle and high school math for two years. He describes his time teaching as humbling, and he says it taught him a great deal about building deep relationships across lines of difference. As a new teacher, he read countless books and attended many professional development sessions about improving his teaching practice, but he found himself wondering which practices most improve student learning. These broader questions about education practice and policy led him to his current job as a social science researcher at the University of Michigan's Youth Policy Lab.
All of Conrad's experiences, from teaching to his current role at the Youth Policy Lab, have helped shape his research interests. In the fall, he plans to begin his PhD in Economics at University of Maryland, where he will focus on labor economics, public finance and economics of education. He credits his teaching years as being particularly influential in shaping the ideas he wrote about in his NSF proposal. Currently, many state education systems place a heavy emphasis on evaluating teacher and school performance based on their impacts on a limited set of academic skills, such as reading and math scores. Research suggests that teachers' impacts on these skills are related to improvements in long-term economic outcomes, but Conrad wonders whether teacher and school impacts on broader behavioral and social-emotional skills might have a similar or greater influence in predicting later outcomes. In his NSF application, he proposes studying how well selective high schools' impacts on academic performance and soft skills predict students' long-term outcomes. He hopes his research will help schools focus on teaching skills that most effectively improve long-term labor market outcomes for underrepresented minorities, low-income individuals and women. Conrad sees obtaining his PhD in economics as the best way to act on his passion for education by conducting research that informs policy and improves lives.
National Science Foundation fellowships recognize and support outstanding graduate students in NSF-supported science, technology, engineering and mathematics disciplines who are pursuing research-based master's and doctoral degrees at accredited United States institutions. Fellows benefit from a three-year annual stipend of $34,000 along with a $12,000 cost of education allowance for tuition and fees (paid to the institution), opportunities for international research and professional development, and the freedom to conduct their own research at any accredited U.S. institution of graduate education they choose.
---