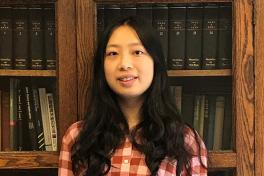 Yaming Cao is a third-year graduate student in the Department of Economics at Ohio State. She joined the economics PhD program in 2017 after receiving her master's degree in economics from the University of Wisconsin. She did her undergraduate studies at Xi'an Jiaotong Liverpool University where she majored in finance.
Cao's current research areas are health economics and labor economics. She is particularly interested in the U.S. health care market. She is currently working on research in evaluating the short and long-run impact of reducing coverage in health insurance. This is a joint research paper with her advisor, Professor Kurt Lavetti, and Professor Nicolas Ziebarth from Cornell University. In her future research, Cao plans to devote much of her time to research that helps us understand and improve the U.S heath care market. In addition to her own research and coursework, Cao is a recitation leader for the Principles of Macroeconomics undergraduate course. She enjoys participating in economic discussions with her advisor and friends in the department.
This year, Cao was honored to be selected as the recipient of the Tom Kniesner and Debbie Freund Scholarship which was great motivation for her to continue to work hard toward accomplishing her academic goals.
---