Each year, the College of Arts and Sciences Honoring Excellence ceremony recognizes a distinguished few of our more than 210,000 living alumni. Their accomplishments are tangible evidence of the lasting value of an Arts and Sciences education. These contributions to their fields, communities, country, college and university make a lasting difference — locally and globally.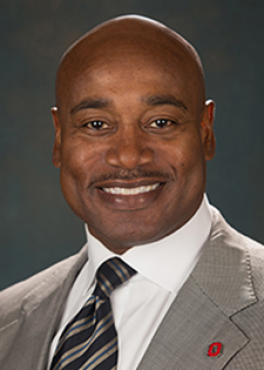 This year's Distinguished Alumni Achievement Award, which recognizes the outstanding career achievements and contributions of our alumni in fields such as arts, business, research, academics and public service, was given to Keith Key (BS, economics, '89).
As CEO of Keith B. Key (KBK) Enterprises, Key brings a host of banking disciplines and entrepreneurial skills to the operations and financial management of the company and all related entities. He has been involved with over $1 billion of real-estate development across the country inclusive of residential, commercial and religious-oriented projects. A native of Pittsburgh, Key relocated to Columbus to attend Ohio State as a student-athlete.
Though his athletic career was unfortunately cut short, he channeled his leadership qualities from the field to become engaged in student life, where he served as president of several student organizations and received a bachelor of science in economics. Key used the skills he developed from his experiences in college and his tenure in the banking and finance industries to build a successful real estate development company. He is committed to shaping the future generations of entrepreneurs through his philanthropic efforts at Ohio State. Most notably, Keith donated $1 million to support the Office of Student Life and the Keith B. Key Center for Student Leadership and Service.
Key is the founder of the Keith B. Key Buckeye Social Entrepreneurship program (KBK BSEP), and he serves as a board member of The Ohio State University Alumni Advisory Committee and The Ohio State University Foundation.
---