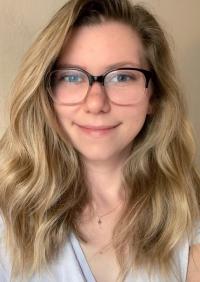 Margaret Seikel placed first in the Business and Economy category of the 26th Annual Denman Undergraduate Research Forum with her research titled "Death and Taxes: the Economy and Suicide during the Great Depression and New Deal". Professor Randolph Roth from the history department was her mentor on this research project.
She began working on her thesis in summer 2020 while taking a research seminar on the history of violence with her mentor Professor Roth. In the early months of the COVID-19 pandemic, she read numerous articles concerned about a potential twin epidemic of suicides and overdoses attributed to financial hardship and isolation. Throughout Margaret's academic career, she wanted to explore how economic crises affect suicide rates by examining data from the Great Depression. During that seminar, she systematically coded hundreds of obituaries attributed to suicide from 1929 to 1937. A year later, she found that official vital statistics present a fundamentally flawed picture of self-inflicted mortality during this period and used the differences between the qualitative and quantitative evidence to examine increased risk of deaths of despair by demographic group during recessions.
Margaret is a graduating fourth year student dually enrolled for a Bachelor of Art degree in History with a double major in Economics and a Master's degree in Applied Economics. Due to extended admissions timelines and waived testing requirements during the pandemic, she had the opportunity to complete a Master's degree while also finishing up the final courses required for her Bachelor's degree. She credits the Master's of Applied Economics program for dramatically improving her statistical coding abilities and she learned a great deal about practical applications of econometric analysis.
During her undergraduate career, Margaret worked as a tutor for the Economics Learning Center and more recently, worked as a research assistant for Professor Trevon Logan. She was the Vice President of the Ohio State chapter of Omicron Delta Epsilon. Margaret was an Eminence Fellow, an Ohio State merit-based scholarship program, and a recipient of the William Green Memorial Fund Scholarship. Following graduation, Margaret will be working as a Financial Analyst for the Consumer Financial Protection Bureau.
---