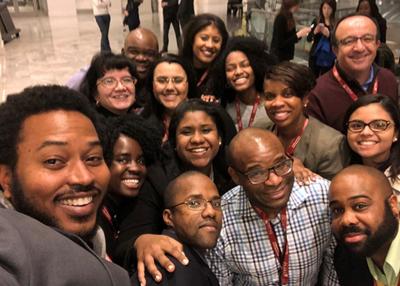 Trevon Logan has been appointed director of the American Economic Association (AEA) Mentoring Program. As director, Logan isn't necessarily looking to push the field of economics into more research on diversity and inclusion.
But by opening networking opportunities for underrepresented master's and PhD economics students and matching them with mentors in the field, at a micro level, diversity and inclusion is exactly what Logan's role champions.
"It's much less about pushing the field into particular directions," said Logan, a professor in the Department of Economics and associate dean of the College of Arts and Sciences. "It's much more about helping individual scholars achieve their potential. … If you do that, then the profession really will be different by definition."
The AEA Committee on the Status of Minorities in the Economics Profession established the AEA Mentoring Program back in the mid-1990s. In a nutshell, the program pairs minority graduate and doctorate students with established scholars who guide them through the graduate school process and help them transition from coursework to research through the beginning stages of their post-education career.
The Mentoring Program also gives underrepresented students a chance to network and provides funding for students to attend conferences to present their research. It hosts an annual Summer Mentoring Pipeline Conference, a convention for mentees to attend presentations from their peers and learn from economists about professional development and opportunities.
Logan served as the program's associate director for nearly a year before being appointed director, but his first interaction with the program was almost 20 years ago when he was a graduate economics student at the University of California, Berkeley.
Despite the gains the program has seen since its inception, the economics profession as a whole has remained stagnant in one key area.
"It's such an honor to be appointed director because I'm a former participant in the program," Logan said. "But the demographics of the economic profession have simply not changed for the better in the last 20 years."
Because of the lack of diversity in economics, the field has been slow to broaden the scope of research to include factors such as race and ethnicity, Logan says. He pointed to Janet Yellen, the former chair of the Federal Reserve, who said after the Great Recession of 2008 that a blind spot for economists was a lack of diverse perspectives in the field.
Those perspectives have always mattered and are integral to forming a more inclusive and comprehensive economic picture. But especially now — in a time of social upheaval and unrest stemming from racial discrimination and socioeconomic inequality — it's imperative they're elevated.
"If you think about the way economists have approached topics such as income inequality and the criminal justice system and other aspects that are now really pressing into race and ethnicity, economists simply have not approached them in as broad a way as other social scientists," Logan said. "We have a real serious problem of our inability to speak about these issues."
One concept economists utilize is called the production-possibility frontier, which represents the maximum amount of goods that can be produced determined by variables such as labor, technology and resources.
Racial inequality, however, ultimately stymies a market's ability to operate on the production-possibility frontier.
"There is labor capacity that you haven't invested in their human capital," Logan said. "So they can't be as productive as they could potentially be. All of these things would happen in any system that has this level of racial exclusion."
Logan continues to advocate for a more diverse economics field, but those changes begin with initiatives like the AEA Mentoring Program.
"I'm really thinking about the individual level," he said. "Making sure people have the resources they need so they can advance would be a great thing, and it would be a great way for us to go forward."
Logan named director of inaugural NBER working group on race and economics.
In addition to being appointed the AEA Mentoring Program's director, Logan has been appointed director of the National Bureau of Economic Research's (NBER) inaugural Working Group on Race and Stratification in the Economy.
The new working group will bring together researchers from the various subfields of economics to examine the causes and consequences of racial economic disparities. It will explore how public policies, private practices and other political institutions influence racial disparities in economic outcomes including income, wealth, housing, educational attainment, labor market outcomes and economic mobility. The group will also consider ways to better integrate race into all aspects of economic analysis more broadly.
The group will meet twice each year, starting with a virtual meeting in April 2021.
"We see race play a critical role in so many features in our economy, not just racial disparities, but how policies are created and implemented, how we measure the health of our economy and how we build a prosperous future," Logan said. "Some estimates claim that racism costs our economy trillions of dollars — potential that is untapped, markets that are inefficient and resources that are squandered. Having the NBER take these issues as central in the highest-quality economic research is an important indication of the possibilities to do some truly pathbreaking work that will have a measurable impact on material living conditions for all Americans."
Logan has been an NBER research associate since 2010 and specializes in economic history, economic demography and applied microeconomics, with a focus on economic racial disparities. He has written extensively about the stark racial health and economic disparities revealed by the COVID-19 pandemic for The Hamilton Project and Bloomberg, and more broadly about economic disparities for the Washington Center for Equitable Growth and The Conversation.
The NBER is a private, nonpartisan organization with a network of over 1,550 affiliated economists that facilitates and promotes analysis of major economic issues. Its community posts over 1,200 working papers annually, and 32 current or former NBER affiliates have been awarded the Nobel Prize in Economic Sciences.
---