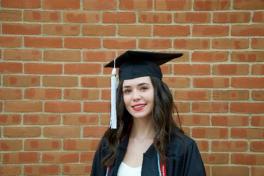 My name is Juliette Kokernot. I am a graduating senior earning a B.A. with a double major in Economics and History along with a minor in French. I am one of the 2020 recipients of the Harold A. Black Endowed Scholarship Fund for Economics.
I decided to pursue a second major in Economics to develop a deeper understanding of how people make decisions and how economics factors have shaped the world we live in today. I am particularly interested in Economic History here at Ohio State. I recently took an environmental history seminar class where I wrote my final paper on the economic historiography of environmental determinism and how economic narratives about past societies influence their development today. From the economics courses I have taken, I have been introduced to various economic principles and theories and have learned how to be a better researcher. I am working as a student assistant with Professor of Sociology Hollie Nyseth Brehm on her research about the Rwandan genocide, which studies community rebuilding after tragedy. I also worked at the OSU Writing Center for two years, which has inspired a passion for teaching.
Next year, I will be participating in the Teaching Assistant Program in France, a program for teaching English in primary schools in France. Once I have completed this program, I plan to attend graduate school to pursue a PhD. One day, I hope to combine passion of teaching and economics by becoming a professor.
---