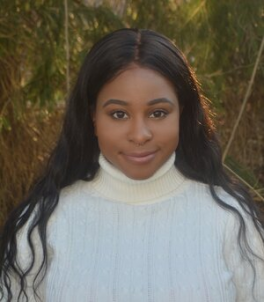 Olamide Bola graduated from Ohio State in 2019 with a Bachelor of Art in Economics. She is currently a Research Assistant at the Federal Reserve Board in Washington, D.C. in the macroprudential analysis section within the Financial Division of the economic research department.
While Olamide hopes to pursue a PhD in Economics, she first began her journey at the Ohio State University where she was exposed to social justice-focused works by activists and theorists like Audre Lorde and James Baldwin. Along with her lived experiences, these radical works sparked a desire to conduct research that is relevant to her life and other marginalized peoples'. Thus, in 2017, Olamide conducted her first independent research project as a Summer Research Opportunity Program (SROP) fellow where she studied racial wage differentials across fields. This experience solidified her commitment to using economics as a tool to explore inequality and marginalization. In 2018 she participated in the American Economic Association Summer Program (AEASP) where she and her partner won "Best Research Topic" for a study in which they analyzed police stops of non-whites in gentrified neighborhoods. Olamide was a recipient of the William Greene Memorial Award from the department of Economics.
Throughout Olamide's undergraduate career, she found inspiring and caring mentors and professors at Ohio State. Professor Bruce Weinberg advised her research project as a SROP Fellow and throughout her economic undergraduate career. Olamide remembers learning so much from Professor Trevon Logan, especially in his Economics of Population course. She also remembers Senior Lecturer Ryan Ruddy for his patience and kindness while teaching his Econometrics course. Professor Koritha Mitchell from the English Department was another great mentor and inspiration to Olamide.
After graduating in 2019, Olamide completed an internship at the Ohio Housing Finance Agency. There, she studied housing inequality and mortgage loan discrimination in Ohio. Olamide's research interests include the marriage and dating market, colorism, and China's foreign direct investment in Nigeria. Olamide is also a research mentee at the Research in Color Foundation where her mentor is developmental economist Robert Garlick.
Olamide is the inaugural recipient of the Harold A. Black Endowed Scholarship Fund for Economics. This endowed scholarship, established in 2018 through the generous gift from alumnus Harold A. Black, is Intended to acknowledge undergraduate economics majors who have overcome substantial educational or economic obstacles and have potential for graduate work. Check out here a conversation between Olamide and our generous alumnus, Harold A. Black, as part of the 2020 Arts and Sciences Scholarship Exhibition. 
---